It's a complicated issue, one that matters both very deeply, because of civil rights, and very little, because marriage is a deeply problematic institution that isn't as important as the country thinks. I've got a lot more to say about it. But for the moment, let this suffice: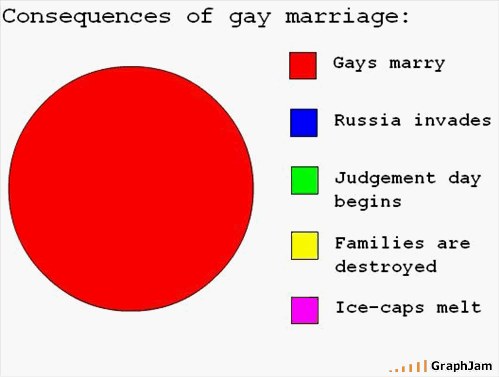 via Andrew Sullivan and Graph Jam.
EDIT: Also, I forgot to mention
this recced Kos diary
, which proposes a hostile takeover of the highly offensive Mormon practice of posthumously baptizing non-Mormons, in the form of "converting" dead Mormons to homosexuality. The first prayed-for convert? Joseph Smith, of course!
Dear God of the Homos,

With your great and everlasting love that blessed the covenants of Achilles and Petroclus, Gilgamesh and Enkidu, and of Jonathon and David, bless then the soul of Joseph Smith of Sharon, Vermont with your divine penis. Let it pierce the anus of his soul, and let you be forever joined to him, since on this oppressive earth, he was denied the pleasure of the male sex.

Forever and ever, our brother Joseph Smith has now joined our family (We Sing the Hymn to Praise God of the Homos!).

Blessed be God of the Homos,

Amen