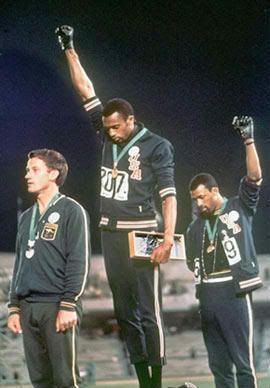 40 Years ago it was John Carlos and Tommie Smith.
Smith:
I had asked my wife earlier to bring me a pair of gloves from California. She had not left to come to Mexico yet. So I asked her to bring me gloves after the meeting. And I didn't know what I was going to do with the gloves, but I knew I had to make a representation of my feelings, and it would have to be silent, had to be respectful, and it would have to be visual. And this is the raised fist. I had the right glove, John Carlos had the left glove. They were gloves, which my wife brought from California. And it was a cry for freedom. When both fists went up in the air, very justified in that they went up, not undignified or disrespect to the flag. We did face the flag. We didn't turn our back on the flag. But it was a silent gesture.

It was a prayer in hope that our system would become a stronger system in representing all of its people equally, human, and civilly.



Will someone answer the call in Beijing?