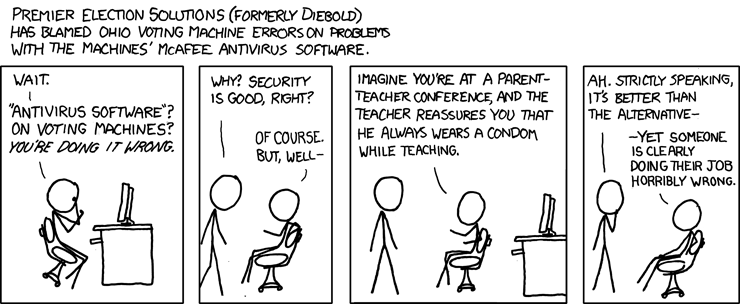 Friday's
XKCD
(above) raises a worrying issue about both past and upcoming elections. Even from my own limited experience with computers, I can tell you:
1.
The only way to keep computers from being hacked or getting viruses is by keeping them isolated.
Period. Why on earth are these machines ever hooked up to a network? Why are they ever in a situation where they could possibly get infected with a virus?
2.
Almost universally, viruses have to be programmed specifically for the OS that they will infect, and anti-virus software works by looking for particular viruses.
In other words, you wouldn't be able to tell whether the voting machines had been affected by a stealthy virus even if the anti-virus software was working perfectly, because the only place the virus would show up would be in the voting machines themselves and so the anti-virus software wouldn't know what to look for.
3. Or, at least that's the only place it should show up. The fact that they think they need anti-virus software raises the possibility of an even more serious concern:
what if they didn't bother to program their own OS?
Oh my god, I hope they are not running Windows.
There are many reasons to be worried about electronic voting machines. But holy shit: I did not expect severe incompetence on the part of their designers to be one of them. More information is available
here.
Or, you know,
here.