Chances are, if you're reading this, you at least know what Starcraft is. In fact, chances are you've wasted hundreds of thousands of hours playing this king of games, and know the precise difference in dps between sieged and unsieged siege tanks. But just in case you aren't in on the awesomeness:
•Starcraft supports thousands of professional players worldwide. And yes, by professional players I mean people who get paid (often handsomely) to do nothing but be among the best in the world at a computer game. How do they get paid? This is an aerial photo of a tournament, presumably in South Korea where the game is all but a national sport: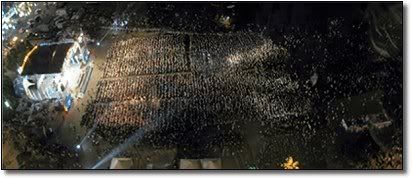 •Remember that snipe about something being as boring as watching someone else play a video game? That's really not true about Starcraft. Spectators exist because the game is fast-paced, impeccably balanced, and a blank canvas for creative strategic thinking. Tradition aside, Starcraft matches are generally way more fun to watch than, for example, baseball games.
•How fast is fast paced? Top players – particularly in Korea, where high apm is socially prized – frequently top 300 actions per minute within the game. That's five actions a second. Can you even click your mouse five times in a second? I didn't think so.
•I should note that Starcraft came out in 1998, and was still being played by hundreds of thousands of people when its sequel came out this year. This sequel, Starcraft II, took twelve years to release – and you will never, ever hear anyone complain about the fact that it really isn't all that different from the original.
So enough synopsis. Here are some super-epic pro or semipro replays, commentated by my two favorite professional Starcraft commentators. Yep, there are professional Starcraft commentators.
1. Here is possibly my favorite replay to date, basically the definition of a knock-down, drag-out fight between Zerg and Terran (two of the three races you can play – the third being Protoss). Both players hammer each other as hard as they can all game, with lots of back-and-forth control of the map and hard counters to advanced, powerful units.
2. Here's a quick Protoss vs. Zerg game that showcases a whole series of brilliant wall-off moves by the Protoss player.
3. And here's a recent free-for-all (where more than two players duke it out with no set alliances) played by members of
Team Liquid
, a pro Starcraft team.
For more from Husky and HD, check out their website (
Starcraft Arena
) or subscribe to their YouTube channels.