The tactics that the Democrats have used so far during the financial reform debate have been surprisingly very encouraging. Over the last couple of days, Harry Reid has been forcing repeated cloture votes in an attempt to shame Republican senators that are blocking financial reform bill. And even better, today it looks like he's gonna take things to
the next level
:
Frustrated by an ongoing campaign by the GOP to block debate on financial reform legislation, Democrats plan to hold the Senate floor open all night, potentially holding repeated votes to break the filibuster, or forcing Republicans to publicly object to debating their bill. But the move comes just as Republicans appear closer than ever to throwing in the towel.



"The voting is up to the Majority Leader, how often they vote," Senate Majority Whip Dick Durbin told reporters after Republicans, for the third straight day, voted in lockstep to prevent debate on the Democrats' bill. "Staying in session? Making unanimous consent requests? Those things are all options.... Votes may be recurring regularly."

Republicans, though, don't seem long for this fight. Earlier today, Minority Leader Mitch McConnell sounded close to ceding, calling his filibuster a useful exercise, but implying that it will soon come to an end.

"There is s some dissension within [McConnell's] ranks and I hope we see it in the votes soon," Durbin added.

That assessment dovetails with those of key Republicans.

"I think we'll know more by the end of the day," Sen. Bob Corker (R-TN) told me. "I think everyone--I think the leader, Shelby, and everyone thusfar has said at some point, it's recognized that this bill will be taken up."

Sen. Richard Shelby (R-AL), the ranking member on the Banking Committee, told reporters after the vote that he'd be meeting with his counterpart Chris Dodd one more time this afternoon, to "see if there's any way to bridge any gap between us and the Democrats on the consumer issues."

"If it's not, we'll have to go to the next step," Shelby added. "All roads ultimately lead to the floor one way or another."
Amazing what a little hardball will do, huh?
Why this hasn't been a strategy on other legislation remains a mystery, but if they break the Republican filibusterer on this bill, then maybe they'll try it again.
Then again, reports came out today suggesting that Republicans might drop their obstruction
for another reason
: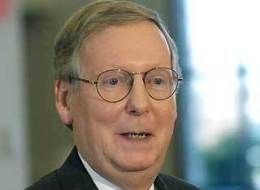 Word is that the Democrats might make the Republicans actually filibuster FinReg tonight. That is to say, stand on the floor and talk and talk and talk. And if the Democrats are serious about forcing the Republicans to really filibuster the bill, this is the right week for it:

The Kentucky Derby starts Friday, and Kentucky's senior senator, Mitch McConnell, would surely prefer to attend. Given that his members are

already talking about breaking ranks

, McConnell may find himself eager to get this kabuki dance over with a little bit early.
We are ruled by idiots.