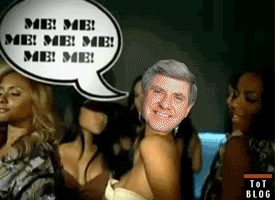 After staying quiet for a few months, the legendary douche caucus member
decides to make an appearance
:
Sen. Ben Nelson, one of the more conservative Democrats in the chamber, has said that a deficit-reduction deal should focus on reducing spending, and not finding new revenues.

The Nebraska Democrat also said in a Wednesday statement that he thought a significant plan to roll back deficits would not necessarily have to take aim at entitlement programs.

"I want to see a broad and serious package of spending cuts," Nelson said. "And we can cut trillions of dollars of spending without attacking Medicare and Social Security. But if we start with plans to raise taxes, pretty soon spending cuts will fall by the wayside."
These debt ceiling negotiations just wouldn't feel right without Nelson getting involved.